It is with a very sad & heavy heart to inform you that our dear, dear boy, Horatio, is now in bully heaven.
July 4, 2008 - July 31, 2008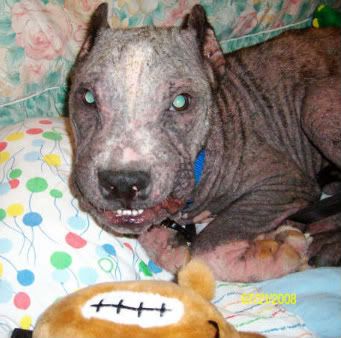 He will be missed greatly by Mommy Ena and her family. He fought very hard, for himself & for his mama, to stay in his only recently wonderful world. Physically his heart could no longer go on. She would like to thank all of his wonderful friends and supporters that have helped make the last month of his life, despite being so ill, the best month of his life.
doGspeed to you Horatio, we love you, you sweet, sweet courageous 4th of July bully boy. Your spirit will live on in the many lives who you have touched. We miss you. Your mommy will never forget her gentle brindle pit bullyboy, or his big brown eyes that told her that he loved her or his broken tail that would wag everytime he saw her.
If you would like to send condolences or a contribution to Horatio's emergency medical treatment last night, please e-mail askannab@gmail.com for Ena's home address. Thank you & bless you. You've shown Horatio that the people can be kind & loving.